T'Ami Ayurveda🧘🏻‍♀️ Relax, 2 days / 1 night stay from € 194.50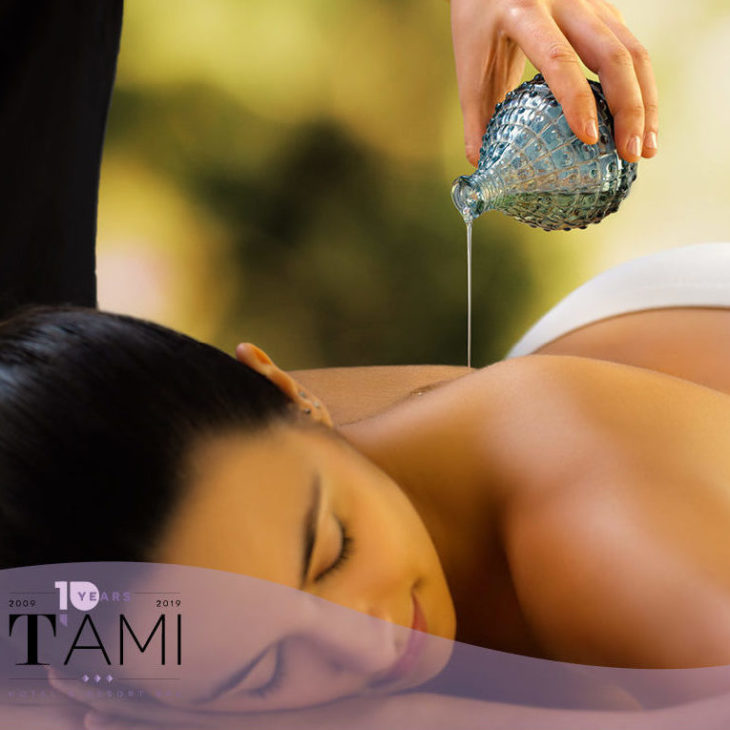 Bioenergetic and Rebalancing Stay
Package dedicated to improving physical and mental health, in a concept of holistic well-being particularly suitable for disorders related to stress, anxiety, insomnia, tension, accumulation of excess fat and liquids. 2 days / 1 night stay
WELCOME
• Check in and room assignment with panoramic terrace overlooking nature.
• BIO Courtesy kit with Bach flowers.
• Fresh fruit in plain sight.
SPA EXPERIENCE
• Ayurvedic rebalancing massage lasting approx. 80 minutes particularly suitable for stress-related disorders, anxiety, insomnia, tension, accumulation of excess fat and liquids. You can choose your favorite treatment from the four proposals that we will list in detail, or you can request our diagnostic test to identify the specific massage most suitable for your person.
• Unique and personalized 90-minute wellness program based on the dominant Dosha, in a private spa with the use of sauna / Bio-Sauna, Hammam, Kneipp shower, emotional showers, Jacuzzi, relaxation area.
DINNER
• By candlelight, in our restaurant, tasting of your choice from local menus, fish menus and vegetarian menus. After dinner you will be served your favorite Ayurvedic herbal tea.
BREAKFAST
• BIO à la carte breakfast, nature view with the possibility of room service. Season permitting, it can also be done on the terrace or in the garden.
SERVICE
• Reserved parking space inside the structure.
• Unlimited Wi-Fi Internet.
• Sky Vision Gold in the room.
• Map of Selvino to explore the area and experience the beauty of the mountain.
• Digital Concierge.
• Check in from 11 and possibility of late check out until 12 on the day of departure.
STARTING FROM € 194.50 PER PERSON, IN CLASSIC ROOM
Rates do not include the city tax of EUR 2 per person per night for stays up to a maximum of 7 nights, which must be paid in cash at check-in.
Exemptions: guests from 0 to 14 years old, handicapped or disabled (with certificate), drivers and guides, housed for emergencies and / or humanitarian aid, sick guests being treated in local hospitals.
The proposed treatments are not aesthetic treatments and are subject to the discipline referred to in law n. 4/2013. The Holistic operators have attended a two-year training school recognized by the Lombardy Region and are in possession of the relevant training certificates and their own RC insurance.
THE AYURVEDIC MASSAGE
From the millenary traditional Indian medicine, Ayurveda.
The Sanskrit word is made up of two words. Ayur (life, longevity) and Veda (knowledge).
We can literally translate it as "the science of life", a science that indicates a series of healthy habits that promote a lifestyle conducive to maintaining psychophysical well-being.
Ayurvedic massage (Abyangam) is the "touch" to enter a new dimension of awareness and peace, a "means" through which to restore balance in body and mind by regenerating the energy of Prana, the vital breath of created.
The massage is based on the principle of the three Doshas, ​​Vata Pitta Kapha, the three primary energies that thanks to their interaction generate the process that regulates the state of dynamic equilibrium necessary for the good maintenance of psychophysical well-being.
Through the Ayurveda diagnosis the condition of the Doshas is established (if in balance or altered), the individual constitution, the needs of the person and the appropriate personalized treatment are defined:
VATABYANGAM PITTABYANGAM KAPHABY ANGAM TRIDOSHA
Each massage is carried out with specific healing oil (Tailam) heated to 38 degrees; Tailam contains a greater fraction of carrier oil (sweet almond, sesame, coconut depending on the need) mixed with essential oils and herbal decoctions, all strictly organic and natural.
In a warm and relaxing environment, surrounded by sweet musical melodies, inebriated by the essences released by the medical oil, the body is completely oiled followed by adequate manipulations.
VATABYANGAM MASSAGE
Vatabyangam allows to decrease the excess of Vata, to mitigate it. Vata is air; cold, dry, unstable.
The massage mainly uses manual rubbing as a key to create heat; it stabilizes, warms, pain relievers, produces softness in the tissues, flexibility in the joints, gives vigor, rejuvenates and stabilizes the mind.
It reduces ailments such as headaches, joint pains, rheumatism, insomnia, anxiety, nervous instability.
PITTABYANGAM
Pittabyangham allows to reduce the excess of Pitta, to mitigate it. Pitta is fire, hot, pungent, oily.
The massage mainly uses the manual stroking as a key to create freshness; it is sweet, calming, refreshing, improves digestion, induces relaxation, calms irritation.
Reduces ailments such as excess heat in the body, headaches, eye tension, gastric pain, hyperacidity, excessive aggression, irritation, tension and stress
KAPHABYANGAM
Kaphabyangam allows to reduce the excess of kapha, to mitigate it. Kapha is earth, cold, wet, heavy.
The massage uses multiple manual skills, from kneading to pumping, as a key to create warmth, lightness and movement to stop the accumulation of fats and liquids; it is dynamic, draining.
It reduces ailments such as the accumulation of fats, excess fluids, apathy.
TRIDOSHA
Tridosha is the Ayurvedic massage indicated for those who have a satisfactory condition of interaction between the three constituent energies. .
It uses specific techniques for each part of the body where a particular dosha is located in order to maintain and increase the condition of balance and well-being.
Fill out the form below to request information