T'Ami Romantic in Private Spa from €134.50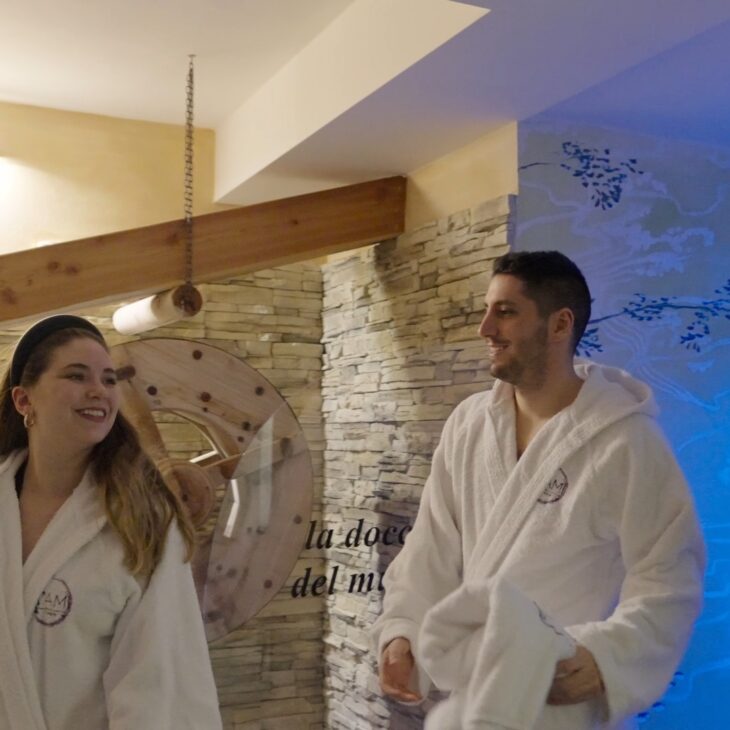 🌟 **Book "T'Ami Romantic Romantic Getaway in a Private SPA" and Escape the Routine!** 🌟
🌸 A Unique Experience Awaits You 🌸
Choose the enchanting "T'Ami Romantic Romantic Getaway in a Private SPA" package and escape from your daily routine. This 2-day/1-night stay will transport you to a world of luxury and well-being, enriched with extraordinary details.
🏞️ **Unforgettable Welcome** 🏞️
– Check-in and discovery of a room with a private terrace and panoramic view.
– Fresh fruit in the room will welcome you.
💆‍♀️ **Romantic SPA Experience** 💆‍♂️
– The entire indoor Mountain Spa will be yours by appointment: Sauna, Bio-Sauna, Turkish bath, Kneipp shower, whirlpool for two, emotional showers, relaxation area, and herbal tea corner, for 90 precious minutes of intimacy.
🕯️ **Candlelit Dinner** 🕯️
– Enjoy your choice of local, seafood, or vegetarian menus in our restaurant. Drinks not included.
🍳 **Tailored Breakfast** 🍳
– In the room, in the solarium with a natural view, in the garden, or in the dining room: start the day with a special breakfast.
🛎️ **Luxury Services** 🛎️
– Unlimited Wi-Fi.
– Digital concierge.
– Sky Vision Gold in the room.
– Check-in from 11 AM and the possibility of check-out until 12 PM on the day of departure, subject to availability.
💖 **"T'Ami Romantic Romantic Getaway in a Private SPA" Package** 💖
From €134.50 per person, in a classic room. Book now and discover well-being.
*Additional nights in half-board formula from €70 per person in a classic room.*
🌈 **Important Details** 🌈
The rate does not include the tourist tax of €2 per person per night for stays up to 7 nights, to be paid in cash at check-in. Exemptions: guests aged 0 to 14, people with disabilities or handicaps (with certificate), drivers and guides, guests receiving treatment at local hospital facilities. You will experience a unique and unforgettable time. Book now!
Fill out the form below to request information